Our MICAP Impact Scores have been designed in concert with our MICAP Reviews. They focus on seven key aspects to assess their likelihood of having an impact on the investment.
Our proprietary scoring system is based on a completely objective assessment of a Manager's responses to our due diligence questionnaire. The Manager's responses combine to produce seven Impact Scores. The seven impacts we assess are Portfolio Strategy, Financial Security, Exit Strategy, Liquidity, HMRC Clearance, Regulatory Status and Manager Operations & Experience, each scored from zero to eight. A lower score represents an area that is likely to have a low impact on the investment, a high score represents an area that is likely to have a higher impact on the investment.
For instance, in the example below the investment has a high score for both liquidity and exit strategy. In determining the investment's suitability this particular one may not be appropriate if access to funds may be required in the foreseeable future.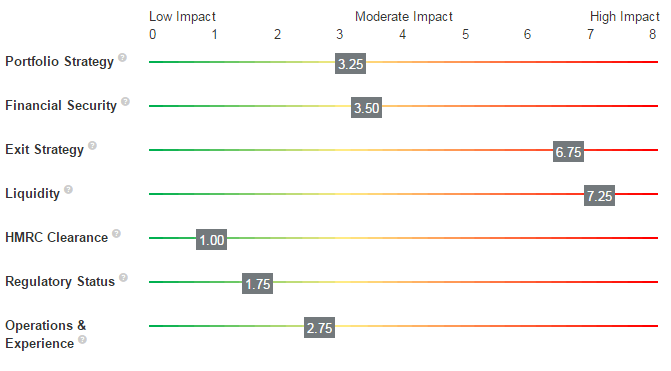 The focus of each of the seven impacts is outlined below:
Portfolio Strategy
This examines the diversification of the offer, particularly the number of investee companies and business sectors that investors will be exposed to. Where an investment is focused on a number of sub-sectors within one business sector this is also taken into consideration. Lower diversification can often mean higher risk, and so a higher score here denotes an investment with a narrower focus.
Financial Security
Investments can fail for many reasons, and this seeks to illustrate the level of downside mitigation in place, should things go wrong. A higher score could signify a lack of real assets to mitigate risk or significant gearing, or for loan-based investments it could signify that the loans are secured by subordinate charges and/or with higher loan to value ratios. Also considered is whether the companies are pre-revenue, post-revenue or profitable, and whether the Manager has board representation to safeguard investors' interests.
Exit Strategy
The exit strategy for an investment determines when that exit should take place, how long the process is expected to take and any factors that it is reliant on. SEIS funds will have a higher Exit Strategy score than  EIS funds, because the investee companies will be younger (and so typically further from an exit event). A higher score can also denote that the Manager has less of a track record of facilitating exits for investors within that particular EIS or SEIS fund, outside of that fund or even more broadly outside of the tax-advantaged market (although this does not consider the personal track records of any of the Manager's principals or investment team). Please note that BR offers and VCTs are not scored for Exit Strategy because it is expected that investors will remain invested until they (or the administrators of their estate/beneficiaries) request a withdrawal, and so the Liquidity score should be considered instead.
Liquidity
This considers how readily an investor can access their funds outside of any exit strategy organised by the Manager. Ignoring any potential loss of tax relief, this considers how quickly an investor can liquidate their holding. A higher score denotes limited liquidity for investors.
HMRC Clearance
Tax reliefs are not guaranteed, and this section examines the relative risk of tax relief being granted. A lower score typically refers to an investment that has been pre-cleared by HMRC, a higher score refers to an investment where the tax clearance status has not or cannot be pre-cleared and where there is no external and ongoing support from a third party tax adviser.
Regulatory Status
Investments are subject to a number of different rules regarding how and to whom they can be marketed. A higher score signifies that this investment's marketing material has not been approved by an FCA regulated firm, or that there are no FCA regulated firms involved with the management of this investment.
Operations & Experience
This considers the financial strength and relevant experience of the FCA Authorised Manager (and where relevant the Investment Adviser) based on numerous factors. A lower score refers to a longer established firm, with a larger balance sheet, a higher level of profits, a greater number of staff with more experience in the tax-advantaged and private equity sectors, and a comparatively large amount of assets under management. A higher score represents a weakness in one or more of these areas. For single company investments with no FCA Authorised Manager, this considers the management team of the single company open for investment plus any support it receives from the Promoter (if any).
Please note: the MICAP Impact Assessment process is based on the Manager's answers to our Impact Assessment Questionnaire, which may not be verified or audited by MICAP.  The resultant MICAP Impact Scores should not be taken as financial advice or a complete and comprehensive analysis of the risks of investing in the investment, which are usually set out in the Information Memorandum, Prospectus or Brochure supplied by the Investment Manager.